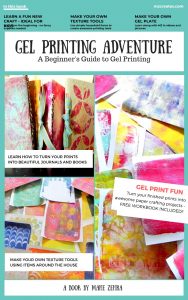 About A Gel Printing Adventure: A Printmaking Beginners Guide: Make a Gel Plate, Gel Plate Texture Tools, Prints, and Project
Discover Gel Printmaking with MZ
Do you want to learn how to make your own beautiful prints using some gelatin, glycerin and paint? A Gel Printing Adventure is an awesome printmaking book that will take you through the entire process of creating prints and then finishing with projects you can make.
This is the book for you if you've been looking for ways to make monoprints – no expensive tools are needed for the projects in this book. This book teaches you how to make your own Gel printing plate and an entire printmaking kit complete with your own printmaking tools.
Gel Printing is magical! Each print you pull of the plate has a sense of surprise and mystery and ninety five percent of the time the surprise is good.I fell in love with printmaking the moment I saw how colorful the prints could be and how I could use items found around the house as wonderful printmaking tools!
Join me as I use bottle caps, paper towel rolls, bubble wrap, old card, corrugated card boxes and more to make beautiful gelli prints.
Grab a pen and paper and go through my lists of things to shop for and others to look out for and start your own little gelli print factory! You will be totally addicted to this art form before you're done with the book and you'll have prints enough to make art journals for all your family and friends this Christmas.
If you're looking for a fun art form that is perfect for both advanced and beginner crafters, good for adults and children, and relaxing too, you've picked up the right book and chosen the right craft to pursue.
Visit The Authors Website & Follow Them On Social Media
Visit The Author's Website.
Follow the Author's Facebook Page
Check Out The Author's Instagram
Learn More About The Author
My name is Mahe Zehra a.k.a MZ and welcome to MZ Creates! I love to create all sorts of things so you will find art journaling, mixed media, Zentangle (I am a Certified Zentangle Teacher), drawing, watercolor tutorials and DIYs here. I love hosting fun parties with beautiful tablescapes, décor and fun and yummy eats. I also enjoy creating beautiful spaces. I feel if we are in a happy environment, we tend to be our best selves and so you will find some home décor tips and DIYs here as well. Most of all though I just love sharing the joy of creating something beautiful on a budget – yup I am super conscious of the budget aspect – and I hope you'll enjoy your visit with me!