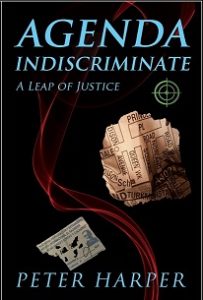 About AGENDA INDISCRIMINATE
Unable to come to terms with the shocking murder of his lover, Rafael Maqui abandons his work as a filmmaker and leaves London for his homeland, El Salvador. Despite his unstable state of mind, he accepts an initiative, via the provisional government, to negotiate with the notorious MS-13 criminal gang a de-escalation in the violence that is crippling the country. When events turn sour, Rafael chances upon Senica, a peasant whose courage over adversity inspires him to put his life in order.
With an unfinished screenplay sitting in London, and an impatient producer on his back, Rafael returns to the city that took his lover's life. Here, he redrafts the script, which in essence threatens to expose an insidious global nightmare. In the midst of the tight schedule to which he is having to work, and just as he re-establishes contact with Senica, Rafael finds himself terrorised by a crazed gunman. Betrayal and an audacious act of defiance from an unlikely source ensue, before a deadly strategy no one could have predicted surfaces, driven by unadulterated revenge.
Visit The Authors Website & Follow Them On Social Media
Visit The Author's Website.
Follow The Author on Twitter
Learn More About The Author
Born in the UK. Travelled extensively. Interested in politics, civil wars, film and music. Worked for Oxford University and currently live in the City of Oxford. Became interested in El Salvador shortly after the Civil War. The courage of Oscar Romero and the 'downtrodden' became a source of inspiration – hence, Agenda Indiscriminate.