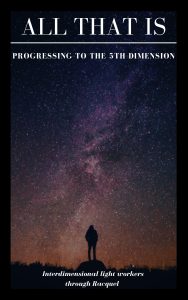 About All That Is: Progressing to the 5th Dimension
All That Is the energy that originated from the sound OM, that has descended to the earth plane during this time of your ascension from the 3rd to the 5th dimension. As you move through the material you will realize that your true nature and your true purpose in life is revealed. This will lead you to gateways allowing you to embark on your ascension to the 5th dimension. All That Is is an all pervading energy of creation, this discourse is an exploration of discovering your individual true connection to this energy through the fog of slavery that has been imposed upon the earth plane.
This narrative is coming to you through a collective of inter-dimensional beings nominated by All That Is to bring these perspectives to the human race. These messages are about you connecting to your higher self and aligning your individual energies to this higher energy and All That Is. You are taken on many journeys with beings through the ages as they intimately interacted with this being to give you a glimpse of their experience through these interactions. Other things addressed in this narrative are how all of these experiences interact with your own energy frequency as it relates to the larger universe and everything around you and how these energies are inter connected.
The epoch that you are now entering is a very exciting time as these energies are ripe for evolution of the human body into light bodies. We encourage you to take this opportunity to get to know the energy that is All That Is through your own very unique energy frequency.
Learn More About The Author
This book has been a joy to write, I did not ever know what it was about and allowed for it to flow. The beings that came through to allow for this book to come to fruition are a group of inter-dimensional light beings from Saturn, Pleiades and Arcturus. The timing of this material could not be more perfect as the energies of higher light pervades our plane of existence. The perspectives being shared here is the story of All That Is in a very intimate setting as we progress through the ages. These beings have given me this gift of taking me on a journey to view these events as if I was right there experiencing things as they happened. Even though I feel I know them through the writing of this book, I know that I have only just scratched the surface of their vast knowledge and wisdom. They have shown me authenticity, kindness and healing far beyond any that I have known. They have shown me the splendour of energy and its dance with frequency, vibration and music as it relates to our body/speech/mind complex and everything around us. Most importantly they have shown me a way to establish a firm connection with my higher self and find my way back to alignment with All That Is.
This is a story of remembering. It is a story of progression. It is a story of reconnecting to who we really are and finding our own unique light within. It is a story of bravery, compassion and forgiveness. It is most importantly a story of victory of the light over darkness. I am grateful to have been a part of this co-creative process as it has taken me through many dark nights of the soul, self-doubt and fear. Overcoming these experiences have made me stronger and brought me into light with experiences of self-discovery, a sense of belonging and a deeper understanding of All That Is.
The learning process has been steep as I was embroiled in the false matrix and fully immersed in its false promises. All of this has fallen away, layer by painful layer, as I embrace the new earth and my newly discovered creative processes and allow for this flame within my heart to grow stronger and in alignment with my highest purpose.
I encourage you, dear reader, to take the plunge and find this inner spark and allow for your unique flame to burn brightly. Slow down, take a breath, go within and engage with this light as the higher energies reveal themselves to you in their own unique way. You will know when this takes place in every fibre of your being.
Much love and blessings,
Racquel