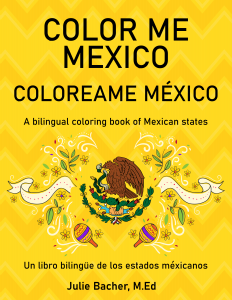 About Color Me Mexico:
This book is a coloring book of the Mexican States. Each state has a short paragraph in Spanish and English, as well as a list of 5 vocabulary words in both languages. There is one coloring page per state. 71 pages long.
Buy the book, and follow the author on social media:
Learn more about the writer. Visit the Author's Website.
Buy the Book On Amazon.
Visit the Facebook Fan Page.

Author Bio:
Julie Bacher grew up in the countryside of Vermont, climbing trees, and playing in hay lofts. At the age of seven, her family moved to New Hampshire. During this time, Bacher was an introverted child who dealt with being painfully shy.
In her young adulthood Bacher traveled the world, doing community service projects in Cental America, living on a Kibbutz in Israel, and spending a year in Costa Rica.
She has spent 23 years teaching Spanish in public schools while being a single parent most of that time. In addition to this she has taught English, French, Cooking, Math, guitar, and Zentangle.
She has studied meditation and Spiritualty/psychic seeing.
Bacher is the author of four books: Heal from Breakup When your Head Won't Stop Thinking and your Heart won't Stop feeling, Teachers Speak: What I Always Wanted to Tell my Principal but Never Dared, Color Me Mexico: a bilingual coloring book of Mexican States, and her latest book, Oh S#*t! I think I'm Gay: a coming out book.
Bacher enjoys drawing, biking, hiking, and also playing music. She was the winner of the pet-owner look-alike photo contest in 2007 at Pet Deli, and the photograph was displayed on the store bulletin board for a month.
She is passionate about LGBTQ issues, social justice, and crafting the words to speak your truth.