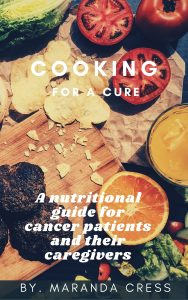 About Cooking for a cure:
Cooking for a Cure is a unique cookbook and information resource guide to help direct and advise those affected by one of the most devastating diseases on the planet.
Written by a three-time caregiver of cancer patients, author Maranda Cress includes the latest and most up-to-date scientific information and techniques available in 2021.
This book includes:
• 40 full-color recipes
• Exercises Tips
• Risk Factors and Prevention steps
• Meal plan guide
• Playlist
• Survivor stories
Buy the book, and follow the author on social media:
Buy the Book On Amazon.
Visit the Facebook Fan Page.

Author Bio:
My name is Maranda Cress and I am a wife and mother of five children. My hobbies are reading, writing and cleaning. This year we homeschooled the children all while I worked on my book.