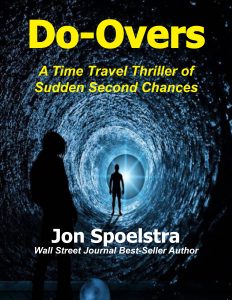 About Do-Overs by Jon Spoelstra:
This is a time travel trip you gotta take. It's cool and astonishing and something you couldn't expect in a million years. Along the way, you're faced with a mystical choice of do-overs that amazingly could fix your worst past blunders. But there's an extreme price tag.
Roy Hobbs blew the cash windfall from his best-seller book. Gone was his money, and then his wife Rachel was murdered with the killer never found.
Roy chose to pick up the pieces, riding into his sunset as a crime reporter in a smaller market. Then a weird stranger made him a freaky offer. The stranger would pay Roy the same money as his best-seller book in return for Roy to write a book for the stranger. The subject of the book would be secret until after Roy makes a decision. Roy's choice: big payday or walk away?
Roy chose big money, and his life hurled into a dimension he could have never imagined. It was there that he faced the most outrageous do-over that would re-invent his life in stunning ways.
Could he truly have do-overs on his biggest mistakes in life? Would he make those same mistakes again, this time knowing the consequences? Could a do-over allow him to rescue Rachel and put an end to the killings?
Roy Hobbs wouldn't be writing his strange new book, he would be living it, and the ending could kill him and kill Rachel again and again.
Buy the book, and follow the author on social media:
Buy the Book On Amazon.

Author Bio:
I spent most of my adult life running pro sports teams, first NBA teams, and then a group of seven minor league baseball teams.
With each job, there was a crazy amount of travel. With all those miles, I read and I wrote, and when I got tired of doing that, I would read and write some more. My fifth book, Marketing Outrageously, became a Wall Street Journal bestseller.
And then, Amazon Kindle came out. I loved it. Someplace along the line, I vowed never to read a book that wasn't on Kindle. (That vow didn't last, but most of the books I read are on Kindle.) Kindle also got me thinking about doing more of my own writing, expanding into fiction.
I wrote Red Chaser, a novel about the 1950s, the Cold War and the Brooklyn Dodgers. I didn't even go to a mainstream publisher. I only wanted it on Kindle. It sold well. I followed that with Marketing Outrageously Redux, a sequel to my Wall Street Journal bestseller.
Then came Do-Overs, a Time Travel Thriller of Sudden Second Chances. Do-Overs is currently ranked in the Top 100 of Time Travel novels on Amazon.
I have fun writing my novels or non-fiction books, and I hope my readers do indeed have fun reading them. If you've read any of my stuff and feel comfortable about giving reviews, please do. Or, if you want to contact me directly, my personal email is findjon@msn.com.
Happy reading!
Jon