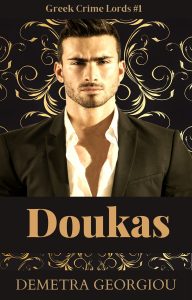 About Doukas (Greek Crime Lords, Book 1)
They say that crime knows no bounds. Or does it?
Doukas Tremes and his brothers, the Lords, are one of the most influential and dangerous crime families in Greece. In their world, everything revolves around crime, and they stop at nothing.
Having inherited a failing business, Ria Vamou tries to make ends meet. On top of everything else, a gang is pressuring her to pay them protection for her taverna.
Love is nowhere near her plans. All it takes is one night, one photograph, one kiss, and everything changes. Forever!
Nothing will stop Doukas from making Ria his because he finally found a woman worth starting a war over.
Doukas is the first full-length standalone novel in the Greek Crime Lords Series. It describes scenes of violence and sexual content, so please read at your own discretion.
Visit The Authors Website & Follow Them On Social Media
Learn More About The Author
Demetra was born and raised in Thessaloniki, and after extensive studies abroad, she moved back to Athens, Greece where she now lives with her family. Ever the incurable romantic, she loves to put on the virtual paper what her vivid imagination conjures.
Ever since she published her debut Give & Take in 2019, she never looked back. Everything is possible, and romance is like the sky: they both know no limits.
When she's not writing, she likes to read, explore, and take long walks to the sea. Her latest novel Doukas is the first in her Mafia Romance Series of the Greek Crime Lords and Royals.