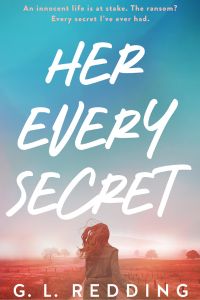 About Her Every Secret
An innocent life is at stake.
The ransom? Every secret I've ever had.
Zoey Miller, is used to managing other people's crises — not her own. That's what ditching her flashy PR job and moving to small-town Missouri was supposed to be about: escape. But when a 911 caller demands Zoey's dirtiest secrets in exchange for the life of an innocent young girl, it's clear her past isn't going anywhere. Instead, it's about to board the town gossip train.
Anchored to his hometown by his grieving mother, Jack Moore's big-city detective dreams have been replaced by a sleepy small-town beat. When his teenage crush unexpectedly ends up in his bed, Jack knows he wants more from Zoey than a no-strings fling. But then her ugly past is forced into the light by a malicious stalker, and Jack realizes he's going to have to move quickly to keep the woman he loves.
As the case heats up, so do Zoey's and Jack's feelings — something Zoey can't allow. Because nice men like Jack don't like tainted women like her. And now, there's nowhere to hide…
HER EVERY SECRET is a steamy open-door romance thriller, featuring sizzling suspense, a hot cop, and the broken woman he's sworn to save.
Learn More About The Author
G.L. Redding is a captivating romantic suspense novelist who resides in the finest city, San Diego. When she's not crafting steamy and thrilling stories that keep readers on the edge of their seats, Redding works as a full-time marketing leader, utilizing her creativity and strategic thinking to make a significant impact in the business world.
Beyond her professional achievements, Redding finds inspiration in her loving family. She's a devoted spouse and proud parent of two wonderful children, who constantly remind her of the importance of love, perseverance, and the power of storytelling.
With a keen eye for detail and a knack for weaving intricate plotlines, Redding's debut novel transports readers into worlds of suspense, romance, and mystery.
When she's not immersed in her writing or leading marketing campaigns, Redding enjoys spending quality time with her family.