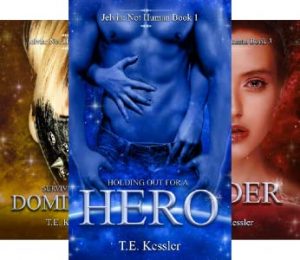 About Holding out for a hero:
Five years ago, lives and history altered when a collective illusion hit every person on Earth and now two species coincide to live together—Jelvia and Human. We go about our lives and Jelvias go about theirs.
Jelvia: Not Human takes us through the ages of unravelling the technology that points to the lie of the Jelvian past, and it begins with Holding out for a Hero where Macy Shaw, a journalist with an obsession in the Jelvian society, follows a headline hitting story not realising her part is all engineered.
Buy the book, and follow the author on social media:
Learn more about the writer. Visit the Author's Website.
Buy the Book On Amazon.
Visit the Facebook Fan Page.
Visit the Twitter page.

Author Bio:
TE Kessler is a British author who writes hot sci-fi fiction for the modern woman.