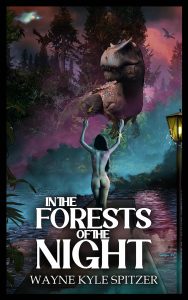 About In the Forests of the Night
First came the time-storm, which erased half the population. Then came the dinosaur apocalypse.
How did it all begin? That depends on where you were and who you ask. In some places it started with the weather—which quickly became unstable and began behaving in impossible ways. In still others it started with the lights in the sky, which shifted and pulsed and could not be explained. Elsewhere it started with the disappearances: one here, a few there, but increasing in occurrence until fully three quarters of the population had vanished. Either way, there is one thing on which everyone agrees—it didn't take long for the prehistoric flora and fauna to start showing up (often appearing right where someone was standing, in which case the two were fused, spliced, amalgamated). It didn't take long for the great Time-displacement called the Flashback—which was brief but had aftershocks, like an earthquake—to change the face of the earth. Nor for the stories, some long and others short, some from before the maelstrom (and resulting societal collapse) and others after, to be recorded.
Welcome to the world of the Flashback.
From The Forests of the Night:
And she passed me the bottle, after which I took a swig and poured the rest into her glass, then went to the cellar for more—returning with a Woodbridge Mondavi Red Blend to find her swaying to "Upside Down" by Diana Ross (playing from a battered little CD player I hadn't even noticed she had) and letting a white strap of her halter slip—like a linguini, I thought, and sat down.
"Don't thing I haven't noticed it," she said, slurring slightly, and added, "I see the way you look at me."
I uncorked the bottle and filled my glass. "You're a very beautiful woman," I said—and sat the bottle between us—too hard, I think. "And a talented one. What would you expect?" I watched as she shimmied and did a little pirouette. "And I'm enjoying the conversation—more than you could know. You move beautifully, by the way. Like a cat."
And then she attempted to spin again but only stumbled suddenly and fell smack into my arms; at which we just looked at each other, she with her boozy, breezy smile and me with an apparent moral dilemma: i.e., should I make a pass at her, like I wanted to, or should I just put her into bed and tuck her away safe (as though she were a simpleton, perhaps, or even child) like, say, John-Boy Walton might. A dilemma I answered by taking her head in my hands and kissing her—heatedly, hot-bloodedly, restlessly—what a friend of mine used to call a "come fuck me" kiss; because she was no child. And I was no John-Boy.
And then we went to her room and lay together; drunkenly, sloppily, unspectacularly, and after a while, I dreamed: of lightning permeating everything and rain pounding the roof like nails, like hail; of wives and friends and girlfriends and my father—most of whom I hadn't seen in years; of small, predatory dinosaurs, deinonychuses, with dark skin and wet backs—who held vigil around our bed like cultists, like priests, and who trilled, softly, faintly, as though they were meditating. As though they were communing.
Visit The Authors Website & Follow Them On Social Media
Follow the Author's Facebook Page
Learn More About The Author
Wayne Kyle Spitzer is an American writer, illustrator, and filmmaker. He is the author of countless books, stories and other works, including a film (Shadows in the Garden), a screenplay (Algernon Blackwood's The Willows), and a memoir (X-Ray Rider). His work has appeared in MetaStellar—Speculative fiction and beyond, subTerrain Magazine: Strong Words for a Polite Nation and Columbia: The Magazine of Northwest History. He holds a Master of Fine Arts degree from Eastern Washington University, a B.A. from Gonzaga University, and an A.A.S. from Spokane Falls Community College. His recent fiction includes The Man/Woman War cycle of stories as well as the Dinosaur Apocalypse Saga. He lives with his sweetheart Ngoc Trinh Ho in the Spokane Valley.