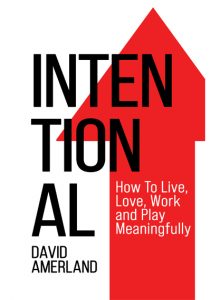 About Intentional: How to Live, Love, Work and Play Meaningfully by David Amerland
Live your life the way you want to. Manage stress better. Be more resilient and enjoy meaningful relationships and better health. We all want that. Such life leads to better choices, better jobs, loving romantic partners, more rewarding careers and decisions that are fully aligned with our aims.
What stops us from getting all that is the complexity of our brain and the complicated way in which the external world comes together. The misalignment between the internal states we experience and the external circumstances we encounter often leads to confusion, a lack of clarity in our thinking and actions that are not consistent with our professed values.
Intentional is a gameplan. It helps us connect the pieces of our mind to the pieces of our life. It shows us how to map what we feel to what has caused those feelings. It helps us understand what affects us and what effects it has on us. It makes it possible for us to determine what we want, why we want it and what we need to do to get it.
When we know what to do, we know how to behave. When we know how to behave we know how to act. When we know how to act, we know how to live. Our actions, each day, become our lives. Drawn from the latest research from the fields of neuroscience, behavioral and social psychology and evolutionary anthropology, Intentional shows how to add meaning to our actions and lead a meaningful, happier, more fulfilling life on our terms.
Visit The Authors Website & Follow Them On Social Media
Visit The Author's Website.
Follow The Author on Twitter
Check Out The Author's Instagram
Learn More About The Author
David Amerland is a Chemical Engineer by training who specialized in quantum mechanical perturbations in laminar flow processes, before stumbling into the world of search engine optimization (SEO), social media marketing and branding via mathematics. He is the author of over a dozen books on business, marketing and search including The Tribe That Discovered Trust and the best-selling Google Semantic Search. He writes for Inc., Forbes, and HP UK and blogs extensively on his own website, DavidAmerland.com. When he is not writing or surfing the Web he spends time giving speeches internationally on how search, social media and branding are changing. His last book, The Sniper Mind became, for him, a deep dive in the world of neuroscience, critical decision making and brain analytics and their application in real-world business.