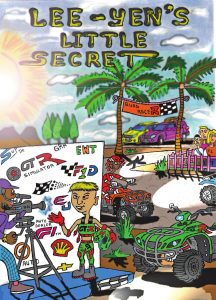 About LEE-YEN'S LITTLE SECRET
Lee-yen's little secret
This book is about a quad bike racing competition.
Whereby there was a group of kids participating in it,but amongst this kids there was this other kid(Lee-Yen) who was the best racer but there was a secret behind him being the best racer.
Lee-Yen's secret was he used to eat a fruit named(the power fruit)before each and every race,the fruit used to boost him with(Energy,thinking fast,speed and also made him to be super active)unfortunately after some time this other kid named (Vince)found out about lee yen's secret ,then Vince just went to grab the Power Fruits for himself as well,since he even found out about the location.
Then at the end of the competition, Vince went to use Lee-Yen's secret against him.unfortunately it didn't end up well for Lee-Yen since Vince happened to be the one to use the secret better then he managed to defeat Lee-Yen.what a shame for Lee-Yen.
Guys i hope you enjoy the book.
thanks for checking this comic book out.
without you i'm nothing.
Visit The Authors Website & Follow Them On Social Media
Visit The Author's Website.
Follow The Author on Twitter
Follow the Author's Facebook Page
Check Out The Author's Instagram
Learn More About The Author
ntsandeni livhuwani vincent,was born in 1996 august 26.from limpopo(south africa)