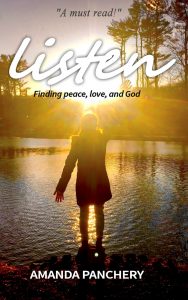 About Listen by Amanda Panchery
This book recounts my experiences as I embark on a 30-day journey of listening to God. For 30 days, I went on a walk, asking God what He would have me hear that day. I ripped off the white space at the top of a lined sheet of paper, placing it in my pocket to write down everything that came to my awareness during the walk. This book is the collection of my writing from each day. It is a compilation of the advice I hope a good friend would give me on a hard day and also the same guidance I would provide to a friend during his or her own difficult time. "Listen" can be picked up for a few moments to read a section or two and ponder, referenced for some "food for thought, or it can be read cover to cover; that works too. I do believe this book is special and has the power to uplift oneself or a friend. I think the feeling you might get while reading it is similar to when a stranger smiles at you or someone gives you words of encouragement. It's a little something that can remind us of the potential we have as human beings, as children of God.
Learn More About The Author
By God's graces, Amanda Panchery created and published this book recounting her 30-day journey of listening to God. Amanda was brought up in the Catholic faith and is what is known as a "cradle Catholic." Yet, Amanda claimed the faith as her own after the tragic death of her friend Maura Binkley in the 2018 Tallahassee yoga studio shooting. Her life mission is to bring joy, faith, and love to whomever God places on her path.
My e-book will be offered for free on July 30, 2021 on Amazon.