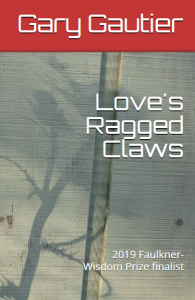 About Love's Ragged Claws
#1 Bestseller on Amazon's 90-minute reads (free) list. A stop at the confessional becomes a life story. Fifty years, three sins of the flesh, each unique, touching, funny, and remarkably real, as Gabriel sidesteps the traditional role of confession and relives the three relationships that ended up defining his life. Strong adult language.
Visit The Authors Website & Follow Them On Social Media
Follow the Author's Facebook Page
Check Out The Author's Instagram
Learn More About The Author
Award-winning writer Gary Gautier has taught university writing and literature and given numerous radio interviews. He has had an Amazon #1 bestseller (90-minute reads free), a novel shortlisted for the Faulkner-Wisdom Prize, a novella selected for the Innovative Fiction Book Club, and a screen adaptation of his novel, Mr. Robert's Bones, was selected to the second round (top 10%) at the Austin Film Festival. Gary has hitchhiked through 35 states and 16 countries and is currently in central Mexico.