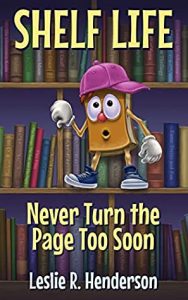 About Never Turn the Page Too Soon
Think TOY STORY in a bookstore and you have the tale of Little Book, a 'tween hero who dares to become a bestseller after his frustrated author abandons him on the donation cart in a bookstore at the close of business one night. With only twelve hours until the bookstore reopens, and the Space-arrangers (the space keepers of the bookstore) growing increasingly suspicious of him, he will have to work fast to prove he can rival the best the bookstore has to offer or risk being shredded into a pile of confetti.
Visit The Authors Website & Follow Them On Social Media
Follow the Author's Facebook Page
Learn More About The Author
I am a HUGE fan of animation, so much so that TOY STORY was the impetus for my SHELF LIFE series. I am currently developing the third and quite possibly, the final installment in the series. But… who knows? I'm having so much fun that I may discover more intriguing characters with stories that are begging to be told in this series.