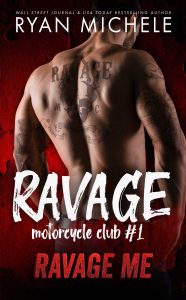 About Ravage Me (Ravage MC):
Revenge always comes at a price—Harlow aka Princess spent the last two years locked up for a crime she didn't commit.
Revenge has consumed her thoughts vowing payback for those who put her behind bars. Now, she's out, going home to her family—the Ravage MC. Retribution is coming. Former Marine, Cruz knows what it means to lose it all. What this single dad found in the Ravage Motorcycle Club is a home, a family for him and his son.
He protects them at all costs.
When these two head strong people meet in the club's garage, he's caught off guard. She's there on a mission.
Anger and challenge combust around them, the push and pull only igniting the flames brighter, hotter.
Princess refuses to give into the lust.
Cruz demands to have her.
Each not giving in to the other. There is no stopping a motorcycle man when he knows what he wants. Not even a strong, independent self-assured woman can stop him.
Danger threatens everything they stand for, ripping through what they've each built with the Ravage MC. Tables are turned and the person who framed Princess is out for blood. Not just hers, but those Princess cares about.
Innocent lives are at stake. One wrong move from either of them means death in the Ravage MC family. One they will never come back from.
It could cost them everything.
Buy the book, and follow the author on social media:
Learn more about the writer. Visit the Author's Website.
Buy the Book On Amazon.
Visit the Facebook Fan Page.
Visit the Twitter page.

Author Bio:
Ryan Michele is the Wall Street Journal and USA Today Bestselling author of over 40 romantic suspense novels. She found her passion bringing fictional characters to life, being in an imaginative world where anything is possible. Her knack for the unexpected twists and turns will have you on the edge of your seat with each page. She is best known for her alpha, bad boy bikers and strong, independent heroines who refuse to back down. When she's not writing, you can find her on her swing, watching the water ripple in the pond and daydreaming about her next book.