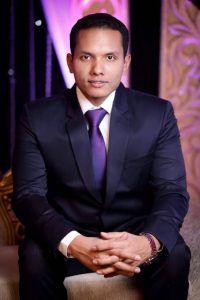 Tell us about yourself and how many books you have written.
I am a budding writer in the realm of business, finance, supply chain and entrepreneurship. During my undergraduate years, I freelanced on all the well-known online marketplaces specializing in copywriting, blogging, search engine optimization and social media marketing.
Currently, I am a corporate warrior by day and a stealth writer by night and I hope to one day run my own consulting firm specializing in business optimization.
Leveraging Leverage is the very first book I have published online. Prior to that, I have published small non-fiction (business oriented) articles in a few local magazines and on Linkedin.
What is the name of your latest book and what inspired it?
Leveraging Leverage is the name of my first and latest book. The inspiration behind the book are the many personal development and business articles and videos I have been reaching and watching over the past few months which snowballed into a fused inspiration.
Do you have any unusual writing habits?
Not that I know of. My writing is fairly straightforward and I try to add a dash of "spice" from time to time to engage readers. Similarly, I try to avoid jargon owing to the usually technical (business-oriented) subject matter of my writing.
What authors, or books have influenced you?
Probably the biggest inspiration for my book is Robert Kiyosaki's Rich Dad Poor Dad.
What are you working on now?
I hope to work on a future ebook chronicling the history of money and its future evolution.
What is your best method or website when it comes to promoting your books?
Currently, the best method working so far is both Twitter and Quora.
Do you have any advice for new authors?
Experiment and try writing on different topics until you find a topic you are comfortable and deeply interested in. That will be your "meal ticket."
What is the best advice you have ever heard?
The best advice (quote) that I have heard, which is also the first few words of my book are:
Give me a lever long enough and a fulcrum on which to place it, and I shall move the world.
– Archimedes
What are you reading now?
Currently, I have been reading a few articles on stock market returns and index funds for an answer I have provided on Quora:
https://www.quora.com/Which-one-is-good-to-invest-in-stock-market-indexes-or-companies
What's next for you as a writer?
I hope to establish a good fan base prior to launching another future book launch (will likely be about the history & transformation of money).
What is your favorite book of all time?
An old classic I read multiple times in my childhood, it has to be The Manticore by Robertson Davies.
Author Websites and Profiles
Red Rahman Amazon Profile
Red Rahman's Social Media Links
Twitter Account
Pinterest Account