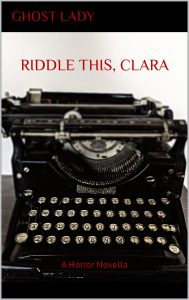 About Riddle This, Clara: A Horror Novella
Riddle This, Clara: A Horror Novella now available on Amazon Kindle and Kindle Unlimited!
Clara moves into a Victorian manor with her newly blended family and begins receiving mysterious riddles on an antique typewriter. Can she find the truth behind these messages before it is too late?
If you love ghostly tales, this novella is for you.
Clara has been given a second chance at life after the loss of her husband. She is engaged to the father of her child, and with their union, she will also gain a stepson. Things appear to be looking up for their family until she receives intriguing messages on a typewriter that belonged to her fiance's late-wife. At first, the notes appear to be innocent, until things go very, very wrong.
Read along through this horrifying tale to find out what happens to Clara and her family!
Visit The Authors Website & Follow Them On Social Media
Follow the Author's Facebook Page
Check Out The Author's Instagram
Learn More About The Author
I finally put my creepy and disturbing mind to good use and began writing horror fiction. My fascination with all things scary began at a young age by watching many, many horror themed films. Unfortunately, my husband has often been a victim of my horror entertainment by my scary pranks. So now, instead of crawling on the ground with my hair over my face while my husband returns from his 2 AM bathroom break, I am putting those thoughts onto paper for your amusement. I hope you enjoyed reading this book just as much as I enjoyed writing it for you.
Happy Hauntings!
Ghost Lady