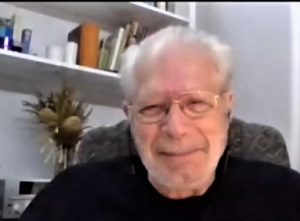 Tell us about yourself and how many books you have written.
I am a newly-minted author with a single novel out at present. The sequel is more than half written and I expect publication in early 2022. I also have a prequel short story available for free.
I'm originally from England (although born in Nigeria), but moved to Australia after graduating from university with a degree in Aerospace. I then worked in Australia and the US in research, academia and IT. I now live in Brisbane, Australia with my wife, two ginger cats and a labradoodle.
What is the name of your latest book and what inspired it?
My first completed novel is "Through my Eyes. Again." but it was not the first novel I started writing – that was when I was ten years old. I've started many since then but was never satisfied them and they ended on the fire. TMEA (as I refer to it) just happened. My daughter is a writer and she had been encouraging me to write for some years.
One evening in 2019, the rather bleak opening scene appeared in my mind and I started writing. I had no idea where the story was going at first – characters and situations just grew spontaneously. Eventually, I realised I needed to find an ending – and I had six sitting on the far horizon. Slowly, that came down to just two endings, both equally possible in story terms. But the characters threatened revolt if I picked one ending – and so it came down to the ending you will read.
One of the major characters disappears during the novel – and the sequel (Through different Eyes) tells that story, filling in the blank.
The short story prequel tells the back story of a minor character in TMEA, appearing in only one scene – but they have a great influence on events behind the scene. This character then has a significant impact and appears more (and in several places) in the sequel.
Do you have any unusual writing habits?
I'm told that all first novels have autobiographical elements and that's true with TMEA. It's set in one of the areas of England I lived in as a child and that was a great help as I could visualise my characters moving around this setting. But it is most definitely not autobiography – the characters and events are inventions.
What authors, or books have influenced you?
I have been an avid reader since I was a small child. Lewis Carrol (Alice in Wonderland) and C. S. Lewis (the Narnia series) were hugely influential and I willingly escaped into their worlds. As a pilot and aerospace engineer, Nevil Shute's novels are significant, but so was Tolkien – I had read Lord of the Rings eighteen times by my eighteenth birthday.
At school, I was lucky enough to study literature in several languages and while I am no fan of the great English novels (Austen, Hardy, Brontes, Dickens etc), I found great joy in poetry and drama. Wilfred Owen's WWI poetry had a huge impact on me as did Shakespeare (particularly his sonnets). I also loved the poetry of Catullus, Virgil, Schiller and Baudelaire and these diverse voices have certainly had an influence.
John Wyndham's SF novels (Day of the Triffids, the Chrysalids etc) drew me into the world of SF and I have read (and still own) a very large number of books by authors like Heinlein, Van Vogt, Asimov and Niven. More recently I have thoroughly enjoyed Peter F Hamilton's books and James S A Corey's Expanse series.
What are you working on now?
At the moment I am working on "Through different Eyes", the sequel to TMEA. This is an interesting task as it has to "fit into" the world and events of TMEA. TDE reached 80,000 words (about half way in first draft) at the end of June 2021. I'm hoping to release this in early 2022.
In the background, I'm picking up one of my earlier failed attempts , doing the plotting and planning. It's SF – set initially on earth in the near future but rapidly heading into space. It looks like it will be a trilogy if it pans out. I also have several other ideas at a lover priority again.
What is your best method or website when it comes to promoting your books?
I don't think there is any one answer – if it exists, I certainly haven't found it! Sites like Pretty-Hot.com are definitely part of the answer, though. Having a presence on the internet is also part of it (Facebook, Instagram, Twitter, my own web site) as is having a newsletter that goes out regularly to readers (please join mine – drop me an email or message).
Do you have any advice for new authors?
I'm still a complete novice at this, so all I can suggest is what worked for me. My daughter and others provided support and feedback as I wrote TMEA and that continues with TDE. That support and feedback was critical to my finishing TMEA and I strongly suggest new writers find a small group of people who can support them and provide constructive criticism.
What is the best advice you have ever heard?
Shakespeare wrote (in Hamlet)
This above all: to thine own self be true
And it must follow, as the night the day
Thou canst not then be false to any man.
This advice has been echoed in many different ways down the years and it is good advice for an author as you need a trenchant and honest internal critic to write well.
What are you reading now?
It's quite an eclectic mix. I love Maths and Science, so I read widely to stay reasonably current, principally in Physics, astronomy and space technology. In the fiction area I am currently reading Corey's Expanse series and a murder mystery by Brian Kavanagh (A Canterbury Crime). I recently finished "Unholy Warrior" (Rebecka Jager) and "Resistance" (Patricia Dixon). These are authors I discovered via social media.
What's next for you as a writer?
Once TDE is complete, the SF trilogy is going to be my next project and I have another SF project waiting after that. But I may also get distracted by more short stories set in WW2 – I enjoyed writing "Mrs Henderson's Limp" (that's available for free on Amazon).
What is your favorite book of all time?
There are quite a few books that I have re-read (some many times). I don't think I could pick just one as my favorite. It's like "What's your favorite piece of music?" – it depends on what's going on in my life. If I was told I was going to be marooned on a desert island for some time and I could only have one book, it would have to be the complete works of Shakespeare. There is so much to think about there – triumph, tragedy, overweening pride, hubris, love requited and unrequited. All of the human condition is there, in glorious technicolour language – I can see myself wandering the island declaiming to the trees Henry's speech before Agincourt or pondering Jaques' "All the world's a stage" speech whilst watching a fishing line.
Author Websites and Profiles
Robert Hart Website
Robert Hart Amazon Profile
Robert Hart's Social Media Links
Goodreads Profile
Facebook Profile
Twitter Account