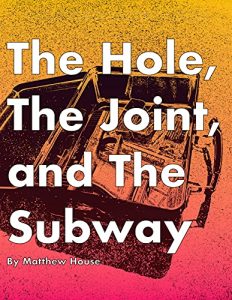 About The Hole, The Joint, and The Subway
In the 1950s, during the heart of the Cold War, the federal government constructed three facilities in central North Carolina for the purpose of countering Soviet aggression and ensuring a functioning government in the event of nuclear war.
One was a hardened underground communications bunker in an isolated area of Chatham County, about thirty-five minutes from downtown Raleigh.
One was a command-and-control facility and CIA operations station, located beneath an office building on 401 Oberlin Road.
One was a 20,000 square foot bomb shelter located just to the east of the Oberlin Road facility and connected by a series of underground utility corridors. The shelter was beneath a shopping center. In the early 1970s, a developer annexed the space for retail use.
In the pages that follow, these facilities are called The Hole, The Joint, and The Subway.
Danny spends an evening at The Subway. His life changes forever.
Visit The Authors Website & Follow Them On Social Media
Visit The Author's Website.
Follow The Author on Twitter
Follow the Author's Facebook Page
Learn More About The Author
I retired from my career in public education a few months ago. During my 26 years in that field, I taught fourth and fifth grade, served as a creative writing specialist, and served as a technology facilitator. I have also taught Educational Technology as an adjunct professor at North Carolina Central University.
I've studied creative writing at the college level under Fred Chappell and others. My short story, Running Down Rust, was recently awarded an honorable mention in the Writers of the Future contest. I admit to not being entirely sure whether or not the contest is just a Scientology grift, but I thought I'd mention it just the same.
I have been writing as a hobby since I was ten years old. A lot of it was pretty bad.
The Hole, the Joint, and the Subway is pretty good.