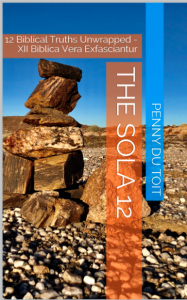 About The Sola 12
I was introduced to the Solas of reformation and the five Solas that stood as the fundamentals of reformation. I agree with all 5 of them, yet it seems to lack and fall short of others which could not be ignored.
Soli Deo Gloria – To God only the Glory, Solus Christos – Only through Jesus Christ, Sola Scriptura – Only the Word of God is the authority, Sola Fida – Only by Faith will we be saved, Sola Gratia – Only by Grace do I have a chance.
I have asked the question and then was showed away as not to rock the boat. My question seemed fair.
"Should we not include the Holy Spirit into the solas?" "What about Solus Precatios(only through prayer) "nI have then started to make a list of things we missed. I started with the Holy Sprirt, and worked my way down to love. and then I had 13. the number did not work for me, and I asked the Lord if I should continue or not. He gave me the answer a few days later. the Holy Spirit and water Baptism stands alone, yet they must be combined into one and bring a new sola which is
"Nisi Denuo Natus – Only by being born again (Baptism in the Spirit and water) will I be able to enter the Kingdom of heaven."
Solus Spiritus Sancti and Solus Baptismus forms a new Sola called – Nisi Denuo Natus.
We need these 12 Solas to build a reformed foundation in our Churches. This is not something I slapped together over a couple of days. I started writing this book in 2018. Covid- 19 and the pandemic caused a pause in the writing of this book, and in the passed month the Lord started nudging me towards finishing this book.
This book has two purposes.
Firstly for us as christians and others which is non-christians to realise the truths and foundation blocks the Bible stands on. We need to get our lives in order, because there is a heaven and there is a hell. There is no third option, and being ignorant is also not an option.
Secondly this book is written for churches to start building their foundation blocks of the evangelical message around these. For example, there is churches that doesn't seem to find prayer important. After reading this book, they will realise what the Scripture says about prayer and how important it is. Other churches might not need the Holy Spirit, they will quickly find out, that there is no evangelism department without the Holy Spirit. This is why this book is so important for churches and church leaders, as they will need a defined guide to help them. As a public speaker, I have no intention speaking on secular subjects anymore. I wil spend the rest of my days helping people get to God, and be saved. Secondly I will assist and help any church understand the foundations of these solas to be a Scripture fundamental driven church with purpose and energy.
Visit The Authors Website & Follow Them On Social Media
Visit The Author's Website.
Follow The Author on Twitter
Follow the Author's Facebook Page
Learn More About The Author
Penny du Toit is the co-author of the book "Why Great Leaders Are Catalysts" and helped establish the principles of the Leadership Flag and "Core of the Cabbage". Penny was a Business Strategist and Growth Advisor with over 20 years' experience in Risk, Change and Catalyst Leadership Experience. In 2017, he spoke on the theme: "Why Great Leaders Are Catalysts" at TEDx Swakopmund.
Being a Catalyst Leader Coach for companies in Southern Africa and have developed AMP (Application to Management in Practice) course for leadership and management in the field of Christian Leadership. Penny also works part-time in the business field and also speaks at churches and communities on Christian Fundamentals and Christian Leadership.
He is a full-time evangelist that build a network where he brings the Word of God to different business entities and workers during the week that does not afford the opportunity to attend Sunday service due to work commitment. He writes poetry in the Afrikaans language. His uses his birth name on his Afrikaans poetry, Epenetus and have published his first Afrikaans book called "Woestyn Gedagtes".