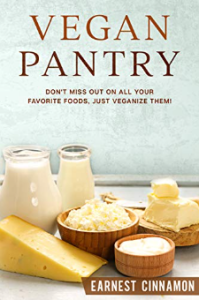 About Vegan Pantry: DON'T MISS OUT ON ALL YOUR FAVORITE FOODS, JUST VEGANIZE THEM!
Learn About Vegan Pantry For Beginners and Artisan Cheese & Yogurt Makers
Do You Want To Discover Secrets Of Making Plant-Based Cheeses and Yogurts?
Finally, Impress Your Friends And Family With Your Homemade Vegan Food!
Find Out What Equipment and Techniques To Get The Best Results!
With a Bonus Chapter on How to Maintain Your Vegan Pantry!
Struggling to Make Plant-Based Cheeses? Desperate To Have Melted Cheese Again? Sick Of People Dissing Your Pantry?
Interested In New Flavours And Styles?
You, Will, Learn The Following:
How To Make Kick Ass Vegan Cheese
Different Types Of Vegan Cheese
Techniques And Tips To Make Artisan Vegan Food
Sauces, Soft, Hard, Melted, And More
Make Amazing Vegan Butter, Yogurt, Milk, Sauces and Cultured Food
And Much Much More!
Whether you want to learn more about easy to make Vegan food or you want more recipes and tips to create and enjoy wonderful Non-Dairy food, also Nut-free options. This book is for you.
So don't delay it any longer. Take This Opportunity By Getting This Ultimate Home-Made Vegan Pantry Book Now!
Learn More About The Author
A long time vegan!
Earnest Cinnamon is the author of Vegan Cheese and Vegan Pantry.
He is very passionate about delicious vegan cuisine and the vegan community world wide.
It hasn't come easy that's for sure!
He truly believes in that "You are what you eat"
Feel free to share with your friends & loved ones.
Together let's make this world more green.
Go vegan! Thank you