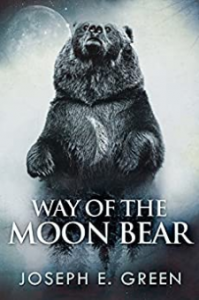 About Way of the Moon Bear (The Moon Bear Trilogy Book 1) by Joseph Green:
When 13 year-old Greenwick wakes up, he has no memory of how he got where he is – or who he is. To make matters worse, he finds himself accompanied by a strange, yet friendly grizzly bear.Confused at first, the two travel across a vast, magical world, bumping into danger and those who claim to prevent it. Thrown into a conflict between nations and beasts, Greenwick begins a journey of self-discovery and adventure.Soon, coincidences begin to feel more like fate. But can Greenwick and his new friend find their true destiny in this strange world?Praise:★★★★★ – "Fantasy isn't usually the genre I read, but I was captivated from the first chapter. It's really well written and the characters are very believable and likeable (even the villains). The story line is incredibly engrossing and once started, I couldn't put it down."★★★★★ – "I thought the story is a delight. Green knows how to keep you on the edge of your seat through every page. A fantastic adventure."
Buy the book, and follow the author on social media:
Buy the Book On Amazon.

Author Bio:
Joseph Green is a young author from a small, ex-mining town in South Yorkshire, England. After graduating university in 2016 with a Bachelor of Arts degree in Film & Television Production, he went on to win a Royal Television Society award in the Yorkshire region for "Best Camerawork", as well as student Audience Awards and Best Choice Awards.
After proving his potential in the visual side of storytelling, Joseph didn't want to restrict himself behind the lens of a camera. There was an overwhelming passion inside of him that could only be translated into written form – this was the birth of "WAY OF THE MOON BEAR", the beginning of the impending 'Moon Bear' Trilogy.
Joseph spent a lot of his childhood imagining, writing short stories and illustrating comics for his friends and family, who state that he always had "a vivid imagination and often thought outside the box". Through school and university, he expressed himself with short films and projects, but soon realised that the best and most enjoyable method of expression came from the written word, though he still has a passion for movies, which is evident with his movie blog, consisting of 50,000+ followers.
Writing adventurous fantasies helped distract from the real world, and his intention is for others to do the same – to enjoy the worlds he creates as a means of escape, yet to also find relevance and emotional connections within the fiction.