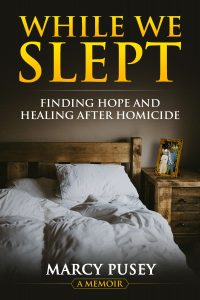 While We Slept: Finding Hope and Healing After Homicide by Marcy Pusey with Jeremy Pusey
On July 13, 2005, newlyweds Marcy and Jeremy woke up to the murder of his mother— just down the hall—while they'd slept.
The culprit was his father.
In this heartfelt and haunting book, Marcy and Jeremy Pusey bring you straight into the heart of their survival story, sharing their shock, heart ache, and hope amidst deep family tragedy.
This heart-stopping work chronicles the grief journey of Mary Ann's son and daughter-in-law, tackling the nature of forgiveness, not staying stuck in grief, and utilizing pain to change the world. Their story demonstrates how faith can move mountains of resentment, unforgiveness and hate, and rebuild a life of joy, healing, and reconciliation.
WHILE WE SLEPT is a eulogy for a missed mother, a legacy for her children and grandchildren, and a lighthouse of hope for anyone else flailing through a tragedy. This book is not only about the story of one mind-boggling murder—but about how we can find hope in trauma, forgiveness in devastation, and triumph in tragedy.
And then there's hope.
Buy the book, and follow the author on social media:
Learn more about the writer. Visit the Author's Website.
Get This Memoir Book From Amazon.
Visit the Author's Facebook Fan Page.
Visit the Author's Twitter page.

Author Bio:
Marcy M. Pusey attained her Certification as a Rehabilitation Counselor in the years immediately following Mary Ann's death. Marcy loves writing stories that bring hope, remove shame, and encourage others. You can learn more about her work at www.marcypusey.com.
Jeremy Pusey followed in the footsteps of his parents and became an educator. His experience working as a mediator with the Victim Offender Reconciliation Program certainly informed his experience as a K-12 teacher! Both Jeremy and Marcy currently serve on the Conflict Mediation Committee in their local community.