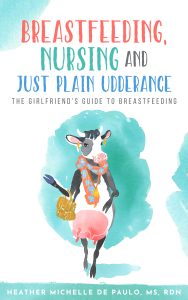 About Breastfeeding, Nursing and Just Plain Udderance, The Girlfriend's Guide to Breastfeeding by Heather de Paulo
Are you are currently pregnant and have either decided to breastfeed or are contemplating it? Or do you currently have a wee one and need some help with the whole breastfeeding thing?  This is THE book for the breastfeeding new mom or a new moms gift!
Don't we always rely on our BFF's for advice when we are going through challenges or are unsure about something?  In this book, Heather de Paulo is your BFF and she discusses how she set herself up for success, as well as how to overcome challenges like sore nipples, mothers-in-law and getting time for yourself.
Some of the many topics Heather covers is:
Setting yourself up for success from the get-go, including choosing the right birthing team.
Baby is born, now what?  Raw honesty about what to expect in the first couple of weeks.
Getting back to work and pumping – with resources about your rights and how to talk to your boss.
Nutrition section about weight loss, or lack thereof, foods to boost supply, and nutrients needed during lactation.
Real talk about sex after birth, that temping glass of wine or cocktail you've been craving, and more.
The purpose of this book is to empower you to have confidence in your ability to breastfeed your baby and to help you get prepared to be successful at it.  Think about it, have you really done anything truly important in your life without preparing? Getting ready to breastfeed your baby is no different.  This book is your guide for success!
Visit The Authors Website & Follow Them On Social Media
Visit The Author's Website.
Follow the Author's Facebook Page
Check Out The Author's Instagram
Learn More About The Author
Heather Michelle de Paulo is registered dietitian, a mother of two teens, entrepreneur, household chef and baker, mom taxi and, like so many women, the glue that holds everything together. She is passionate about helping women make their health a priority across the mom-life journey. A Desert Storm veteran, she started her nutrition career working in the clinical setting, as well as helping HIV/AIDS patients and those recovering from drug and alcohol abuse. She later worked in weight loss and medical nutrition therapy, and has served as a dietitian and research coordinator for numerous pharmaceutical and nutraceutical research studies. After becoming a mom, she identified the need to help other moms understand that their own health has to be a priority, empowering them to believe it's doable by taking quick, actionable steps to reach their goals, using a lifestyle approach. Heather is a huge breastfeeding advocate, having exclusively breastfed both of her babies, and has been passionate about helping her friends and all women overcome challenges they may have while breastfeeding their own babies. She currently lives on the island of Curaçao, with her husband, her two teenage monsters, and three dogs.