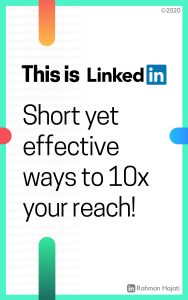 About This is LinkedIn: 10x Growth on LinkedIn For Professionals & Personal Brands:
For everyone who doesn't have time to read through 100+ pages of content here is a short book to grow and 10x your LinkedIn reach whether it be for professionals or personal brands.
Yes that's right you can 10x your reach by just implementing the steps in this book.
It will definitely be the shortest yet most effective ebook you've come across about growing your LinkedIn.
If you are someone who needs to improve your LinkedIn profile and learn multiple growth tactics this book would be very helpful to crush it on LinkedIn.
Why did I keep the book short? I don't want to bore people into reading a whole story which wont even create value.
All the pages in this book are important factors to improving and increasing your LinkedIn marketing results by 10x.
Buy the book, and follow the author on social media:
Learn more about the writer. Visit the Author's Website.
Buy the Book On Amazon.
Visit the Twitter page.