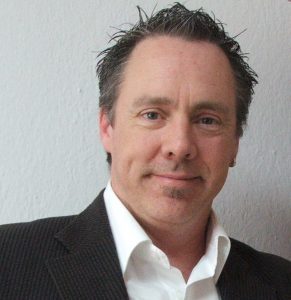 Tell us about yourself and how many books you have written.
I'm an expat Canadian living in Europe. After working 20+ years in the Entertainment industry, I went on a "5-year hiatus" to teach English abroad. Sixteen years later, I channeled my passion for storytelling into writing thrillers and, more recently stand up comedy. "Something in the Water Book One: Drowning" is my first novel. I live in Freiburg, Germany with his wife and son, where I enjoys cycling, nature and ice hockey.
What is the name of your latest book and what inspired it?
"Drowning" was inspired by humankind's insatiable appetite for 'making the world a better place' and our failure to do so. Science and technology are advancing faster than we can deal with the consequences of this appetite.
Do you have any unusual writing habits?
Ummm, no… What do you call unusual?
What authors, or books have influenced you?
I'm not joking when I say William Shakespeare. I got to know his plays when I studied Theatre in college. I had the opportunity to be involved in several productions of Shakespeare's works, which taught me what makes great drama and comedy. His work inspired my early writing for the stage, and about ten years ago I wrote an adaptation of "The Scottish Play" in modern English the first— I hope—of many more… After I've written a few more thrillers.
As for contemporary authors, I would say a few are directly responsible for my venture into long form fiction. I had better reading habits a few years ago, before embarking on the Something in the Water series, and was drawn to books ranging from The DaVinci Code and "Life of Pi" to "The Accident Man" and "Jack Reacher" (and the new Bourne). Different themes, different struggles and different stories, but what they all have in common is great characters experiencing the struggles and living the stories.
I began reading "Digital Fortress" by Dan Brown a few days ago. I read Da Vinci Code years ago and enjoyed it immensely, but I've never consciously thought about mimicking Dan Brown. As I was diving into the book, I realized how similar my 'style' is to Brown's storytelling. It was a little liberating when I saw how he sometimes wrote dialogue, for example. As I studied the craft of novel writing (as I wrote), there were a lot of rules that I learned I had flouted, according to 'The Experts'. I knew I needed to adhere to some of the 'guidelines' in order to make the book more enjoyable for the reader. I made a lot of rookie mistakes, many of which I learned of (and corrected) when I started working with an editor.
When I started reading "Digital Fortress", seeing the similar devices that I had employed (somewhat conflicted) in "Drowning" was gratifying. I felt right. Now, I'm not afraid to edit Book Two. In fact, I might even ask Dan Brown for a blurb.
What are you working on now?
Book Two in the "Something in the Water" series. I'll be announcing the title soon. All of the main characters from "Drowning" return for Book Two. But a couple of them won't survive to Book Three. A few more won't make it through Book Three, either.
What is your best method or website when it comes to promoting your books?
I'm self-publishing "Drowning", and on a shoestring budget, so I'm getting it onto all free platforms, only a few paid ads scheduled before Book Two is published. After that, we'll see…
Do you have any advice for new authors?
Well, I'm still pretty new to this, and still learning. But I've learned a couple things.
1. You don't have to be a planner to make a plan. If you're self-publishing, you need to make time to write AND publish/promote. Make a schedule and stick to it.
2. Find an experienced editor. It's a good thing to have beta readers and proofreaders, but an editor will make your writing better.
What is the best advice you have ever heard?
"Write as if no one's watching.
Because no one's watching."- Dan Brown
What are you reading now?
I already told you, "Digital Fortress"! I know, I know… I'm not really keeping up with New Releases. I finished "Invisible Man" by Ralph Ellison a month ago. But that's the thing about books, a great one will always be great. Anytime. Insert Shakespeare reference here.
What's next for you as a writer?
After I finish this series, I have two or three stories that aren't thrillers, so I imagine I'll be doing a little exploration. And research. Every book is a research expedition for me.
In the meantime, I'll be figuring out if "Something in the Water" is three or four books deep.
What is your favorite book of all time?
Too tough to name one. I've mentioned a few here.
Author Websites and Profiles
Dean Comyn Website
Dean Comyn Amazon Profile
Dean Comyn's Social Media Links
Goodreads Profile
Facebook Profile
Twitter Account
Pinterest Account