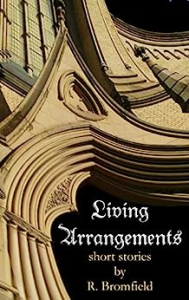 About Living Arrangements: Stories by R Bromfield
Terror at 4:00 AM
First day of high school and my big sister thinks she's fat
A close brush with the Mob
When a Pastor plays god
A sweet little story of inter-galactic war.
Uncommitted crime
The flying eye
The meat talks to me
The greatest show on Earth!
Real time travel       …and more.
Learn More About The Author
Rex Bromfield is a screenwriter and TV and film director. The American Film Institute invited his first feature film, "Love At First Sight", Dan Aykroyd's first film, to Filmex in Los Angeles in 1976. He has directed many children's TV episodes. (Full film and TV credits available at IMDB.com)
He escaped the movie business in the 1990s, to startup The Funny Face SoftBook Company Ltd.. Bromfield and his small team of young artists and programmers created a languageless musical painting app for preschoolers entitled "Paint 'N' Play" which won The Newmedia Invision Award, Newsweek's Editor's Choice Award and Parenting Magazine's Magic Software Award.
His short stories have been published in various journals and his creepy story Hearing the Meat won first place in the 2015 Plymouth Writer's Group International Short Story Competition in the U.K.. 404 Ink Magazine in Scotland published the hilarious short story Feces Happens (though it wasn't called "feces", not because it was a rude word; because it was a thematic competition.) A collection of these and other short stories is available in a volume entitled LIVING ARRANGEMENTS.
Get LIVING ARRANGEMENTS on Amazon RIGHT NOW!