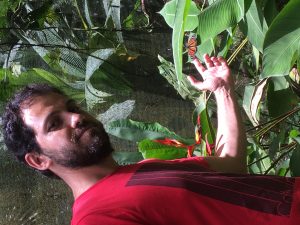 Tell us about yourself and how many books you have written.
I'm a writer/comedian/actor/director ah I must stop. Too many slashes! The slashes are conquering my soul! Technically, I've published two books (although I have many more projects that are yet to have been published). The first book was a humor collection; the latest is poetry.
What is the name of your latest book and what inspired it?
"Butterflies Lost Within The Crooked Moonlight." It is kind of a paean to the lost souls of our era: the forlorn, the addict, the louse, the degenerate etc. I identify with misfits; always felt a kinship; and, beyond that, there is something about the human condition, today, that is inherently alienated/estranged (how can you not be a little estranged when we are ruled by a military-industrial complex and mind-bogging levels of corruption and corporate influence?) The book tackles some of these sentiments; and the confrontation we all face, ultimately, with mortality; sentiments magnified, I suppose, by my struggle with Crohn's Disease (I've had it 27 years) and getting hit by a car crossing the street (both of which prompted me to ask some deep, searing questions).
Do you have any unusual writing habits?
I sometimes write poems in the Notes section of my iPhone. Also, I keep hundreds of drafts of poems in large desk drawers all piled atop each other in a mangled mess. It's joyous! Impossible to sort out. Hallelujah! Finally, I love writing poems in plain black and white marble notebooks; I like the simple .99$ version…and I much prefer college-ruled–wide-ruled disconnects the flow of hand against the page and when using it my writing generally sucks.
What authors, or books have influenced you?
So many. With poetry my biggest influences are Charles Bukowski, Emily Dickinson, William Blake, Wallace Stevens, Sylvia Plath, Arthur Rimbaud, Jonathan Swift, and–when he gets into flights of fancy–Friedrich Nietzsche.
What are you working on now?
A new humor collection. 17 short parodies/satirical writings, including one or two comedic stories. It is definitely a level up from my prior collection. Some of the works in it were previously published. You can find links to a few of these on my website, mattnagin.com, on the List Of Publications page.
What is your best method or website when it comes to promoting your books?
I enjoy using Twitter–since tons of writers use that platform for obvious reasons. Another technique is an email list–I use an email blast program. Finally, I think contacting people individually and discussing your work with them and the impetus behind it can be highly effective.
Do you have any advice for new authors?
Complete projects and put them out there. I wasted too much time being perfectionistic. It is better to finish and move on to a new project and learn from your shortcomings. At some point you have to let go. I'm not saying don't uphold your work to a high standard and try to perfect it as much as reasonably possible. I'm also not saying don't try for a traditional publisher of renown. Just that, for me at least, a positive transitional moment, was knowing, at a certain point, that it was best for me to put work into the world above all else.
What is the best advice you have ever heard?
"Ever tried. Ever failed. Fail again. Fail better." I think those words from Samuel Beckett are terrific advice. This concept is so simple and so human. We all fail–most of the time–particularly in the arts. Our work doesn't live up to our expectations or there are technical or aesthetic challenges we cannot surmount. But that's okay provided you go at it again. Keep trying. Keep improving. The product is likely to ultimately emerge if you really commit to the process.
What are you reading now?
I am reading a book called "Barney," about a hapless, fumbling Australian who navigates employment in the private and public sector as well as various romantic entanglements. It's light summer reading and–in places–very humorous.
What's next for you as a writer?
I want to put more work out into the universe and see where that takes me. Completing the humor collection is my first major goal. After that I have a satirical sci-fi novel I've been working on–sporadically–that I want to finish. I'd also like to integrate myself more in the literary community through Goodreads, Twitter, Wattpad and, of course, live readings/events.
What is your favorite book of all time?
I'd say "Gulliver's Travels" would be near the top just because I love satire and tales of imagination and that book mixes them so adroitly. "A Confederacy of Dunces" would be another satirical novel I thought was masterfully written–and wonderfully zany–from the first page to the last.
Author Websites and Profiles
Matt Nagin Website
Matt Nagin Amazon Profile
Matt Nagin's Social Media Links
Goodreads Profile
Facebook Profile
Twitter Account