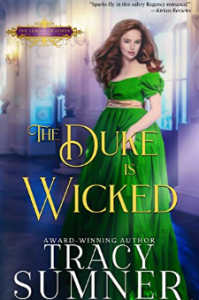 About The Duke is Wicked (League of Lords Book 3)
Fantasy historical romance with a sexy splash of the supernatural.
~HOLT Medallion 2022 finalist!
~MAGGIE Award 2022 Finalist!
~Best Reads of 2021 – Lady With a Quill Reviews
"Regency fans will savor the romantic fireworks! Sparks fly between a sultry English lord and a feisty American heiress!"—Kirkus Reviews
He's harboring a fiery secret….
The Duke of Ashcroft is determined to keep the League of Lords under wraps. After all, the group's supernatural gifts brought the mystical misfits together and nobody is going to tear them apart. Intelligent and wily, Sebastian knows better than to trust anyone–especially an impulsive and intrusive American woman.
She's looking for answers…
Competitive and confident, Delaney Temple is hellbent on uncovering the truth about the League. She'll stop at nothing to unearth the secrets they're burying. But when Sebastian is in trouble and Delaney comes to his rescue, their contempt turns to a burning desire. Suddenly, with their passion ignited, they can no longer deny their attraction.
A wicked duke. A troublesome beauty. And the forbidden desire they can't deny.
League of Lords series (steamy Victorian psychic romance):
#1 The Lady is Trouble (Julian & Piper)
#2 The Rake is Taken (Finn & Victoria)
#3 The Duke is Wicked (Sebastian & Delaney)
#4 The Hellion is Tamed (Simon & Emma)
Learn More About The Author
"A superpowered twist on Victorian romance! Witty dialogue and steamy sensuality."
—Publisher's Weekly
Award-winning author Tracy Sumner's storytelling career began when she picked up a historical romance on a college beach trip, and she fondly blames LaVyrle Spencer for her obsession with the genre. She's a recipient of the National Reader's Choice, a HOLT Medallion finalist, and her novels have been translated into Dutch, German, Portuguese and Spanish.
When not writing sizzling love stories about feisty heroines and their temperamental-but-entirely-lovable heroes, Tracy enjoys reading, snowboarding, college football (Go Tigers!), yoga, and travel. She loves to hear from romance readers! She's currently a southern girl in NYC.
Download your FREE steamy Regency romance novella:
https://www.tracy-sumner.com/newsletter/
Find me everywhere in the social world here:
https://linktr.ee/tracysumner