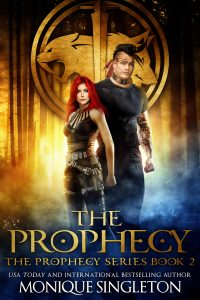 About The Prophecy:
It's official. I'm now the Council's most wanted.
Me, and my army.
Our rag tag collection of Werewolves, Sabre-shifters and any other paranormally gifted creature we can find, are taking on the most powerful organisation in the world; The Paranormal Council.
No pressure, right?
Four months ago, I was an assassin, driven by an unrelenting obsession to revenge my mother's death. I had no ties, no complications. Now I'm the centre of an age-old prophecy and destined to save the world.
How did that happen?
To challenge me even more, I have not one, but two soulmates who hate each other with a vengeance.
It's a wonder I'm still sane.
That is solely because of another man: Ash. The Blackfoot Shaman.
If he is a man that is.
He could be anything.
…Probably is.
Now all we have to do is win this war and preferably stay alive.
Easy, right?
Buy the book, and follow the author on social media:
Learn more about the writer. Visit the Author's Website.
Buy the Book On Amazon.
Visit the Facebook Fan Page.
Visit the Twitter page.

Author Bio:
USA Today and International Best selling author Monique Singleton writes compelling stories that mix fantasy with realistic psychological suspense and unique insights into the mind of the main characters.
As the daughter of a British soldier and his Dutch wife, Monique was born in an English military hospital in Germany. The family toured the world where she was exposed to different cultures in many countries. Finally settling down in the Netherlands she pursued a career in Art and later in ICT.
In 2014 Monique started to put the scenes she had running around in her head, down to paper.
Scenes led to a story, the story to a book, and the first book to a series.
In addition to her writing, Monique still holds down a full-time job as a business consultant. She lives in a beautiful old farmhouse in the south of Holland with her two sloppy monster dogs, some horses, and two cats.
The cats are the boss.