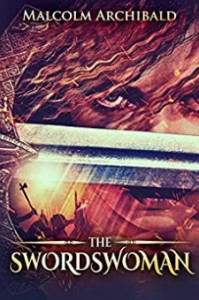 About The Swordswoman by Malcolm Archibald:
The Norse thought they could conquer Scotland. They were wrong.Melcorka is an ordinary young woman from the Isles. But when her homeland of Alba is attacked by the Viking horde, Melcorka abandons her life of luxury and chooses the path of a warrior.With a ragtag band of companions, she heads south to unite the clans and free the land from the Norsemen's scourge – and claim her destiny.Praise:★★★★★ – "A glorious, rousing epic."★★★★★ – "I highly recommend this book to those who enjoy historical novels with sword fighting and war. A great read."★★★★★ – "This book held my attention from start to finish. The characters are believable and the storyline well-paced."
Buy the book, and follow the author on social media:
Buy the Book On Amazon.

Author Bio:
Born in Edinburgh, Scotland and educated at the University of Dundee, I write in a variety of genres, from academic history to folklore, historical fiction to fantasy. I won the Dundee International Book Prize with my novel 'Whales for the Wizard' in 2005 and was a winner in the People's Book Prize with 'The Darkest Walk' in 2011.
Happily married for 35 years, I have three grown children and live in darkest Moray in northern Scotland, close by a 13th century abbey and with buzzards and deer more common than people.