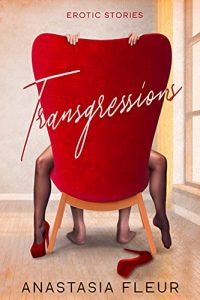 About Transgressions: Erotic Stories
A man has a threesome with his girlfriend, her beautiful, occasional lover—and her strap-on. A woman goes on a second date in a public movie theater that turns taboo when the lights go down. Two young women lose their virginities—to each other. A man searches for the "Holy Grail" (two women at once), but the actual quest they lead him on shocks, surprises, and changes him forever. In these sensual, explicit, subversive—and, at times, surprisingly humorous—stories, anything goes. Playful BDSM scenes, pegging, public sex, queer characters, gender-bending, romance, and so much more. Throw the rulebook away and unleash your wildest desires with this shameless, imaginative collection of erotic literature.
What to expect between the covers:
– Sweet, witty banter
– Sensual romance
– Playful, consent-focused pleasure
– Captivating storylines, and some that are just plain dirty fun
Visit The Authors Website & Follow Them On Social Media
Visit The Author's Website.
Follow The Author on Twitter
Follow the Author's Facebook Page
Check Out The Author's Instagram
Learn More About The Author
Anastasia Fleur is the not-very-secret pen name of Anna Pulley, the author of The Lesbian Sex Haiku Book (with Cats!), which Tegan and Sara said was "an adorable and hilarious way to start the day," Cheryl Strayed called a "must-read," and actress Jennifer Tilly said was "thoroughly charming." She writes a weekly sex and dating advice column for The Chicago Tribune and been published in New York magazine, Mother Jones, The Washington Post, San Francisco magazine (the issue she contributed to won a National Magazine Award), Vice, Salon, BuzzFeed, and many others. She was also named a Top LGBTQ Writer on Medium. Her writing was excerpted/quoted in Esther Perel's recent book, The State of Affairs. She's been a repeat guest on Dan Savage's podcast, Savage Love, on Daniel M. Lavery's "Dear Prudence" podcast, and most recently on the popular 99% Invisible podcast.