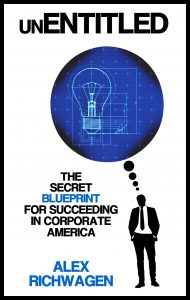 About UnEntitled: The Secret Blueprint to Succeeding in Corporte America:
Trying to figure out the next steps in Corporate America. Tired of not getting ahead. This blueprint will help navigate the challenges of Corporate America. How he got there? Alex has led interns and new employees through those challenges. The driving force behind the book? Alex was nominated to lead and coach over 500 top business students from across the United States in a fast paced conference. That experience was the inspiration.
Buy the book, and follow the author on social media:
Buy the Book On Amazon.

Author Bio:
Alex Richwagen is a VP in Corporate America, started on the front line support and rose quickly through multiple Fortune 500 Companies. Alex wanted to share his experience to help others to advance their career, just like you. This is his playbook.