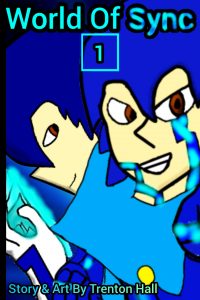 About World Of Sync. Vol, 1 by Trenton Hall
2 brothers, Kai and Ano, aim to join the Guardian Brigade in their city. But on the day of the ceremony where they received their Syncs, small and personal objects that grant the user a boost in their natural power, Kai, who doesn't have a power, receives a sentient Sync that only he can communicate with. With this, he and his future team are set on a path and must uncover the secrets that lie behind their world.
Kai, along with his brother Ano, and 2 friends, Zeke and Saiko, all join as a team underhead by the Guardian: Captain John. but on their first days, they unexpectdly cross a secret organization that becomes more trouble than they would've guessed
Learn More About The Author
Hey, I'm the author of this series. My name's Trent
After getting through a lot of uphill battles, I'm finally pursuing my dream of being an author! Inspired by the works of author Yuki Tabata, who made Black Clover. As well as my own passion for writing since my childhood. I aim to start and finish the stories I've had planned. Starting with my first Comic Novel series, World Of Sync, which I started way back in 2016, and hope you can enjoy the ride with me!