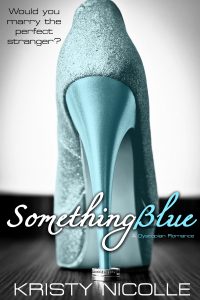 About Something Blue
In the city of Monopolis where happily ever after is just a scientific formula away, Valentine Morland has been waiting nine years for her day to come. Now it's here, and she will marry the man of her dreams, a stranger to her, before being swept off to life of carefree luxury and bliss, courtesy of the Jigsaw Project. However, all is not as Valentine imagined as her new husband is quickly discovered as not the man of her dreams, but one who claims he isn't capable of love at all. Harbouring an intense paranoia for the system, which upholds the very idealist fantasy that Valentine holds so dear, Clark threatens to throw her into a world, not of bliss, but of scary consequence where her every emotion is under scrutiny. Can it be that the scientific formula with a 99% success rate got it all wrong, or is everything in the world of Bliss Inc. more sinister than it seems?
This young adult dystopian romance debut from Kristy Nicolle, 'Something Blue', is a new addition to the great YA dystopian tradition of Scott Westerfeld, Suzanne Collins, and Veronica Roth which have captured the hearts of hungry readers all over the world. Join Valentine as she discovers the truth about arranged marriage, and the accident behind it all that leads her unknowingly to real happiness.
Visit The Authors Website & Follow Them On Social Media
Visit The Author's Website.
Follow the Author's Facebook Page
Check Out The Author's Instagram
Learn More About The Author
27-year-old British writer Kristy Nicolle is achieving freedom from the pain of her Ehlers Danlos Syndrome diagnosis by bringing fantasy worlds to life for her readers. Kristy enjoys spending time in her fuzzy PJs with her kitty arch nemesis, Moo, and loves all things mermaids, unicorns, and glitter!
Award-winning author of over a million published words, Kristy Nicolle is currently working on a supersized series called The Kristy Nicolle Fantasy Infiniverse. This enormous project captures an ever-growing magical universe that will span up to seventy published works where characters from across multiple storylines and dimensions can collide in the most magical and unexpected ways possible.