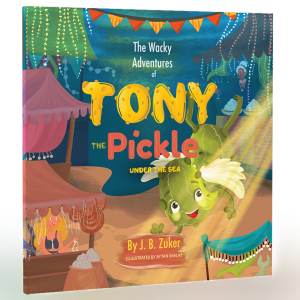 About The Wacky Adventures of Tony The Pickle – Under The Sea:
Tony is a special pickle, his mom is a fairy and his dad is a pickle. He is on his way back from his first ever wacky adventure and very soon he will find himself in a new pickle.
He decides to pay a visit to his friend Froggy who happens to live in a very unexpected place, under the sea, in a very unusual home, a crystal bubble. Tony and Froggy think that it's just another day under the sea visiting a mermaid market but they have no idea they will find themselves in quite a hard situation where their interpersonal skills will be put to the test and also their ability to be creative and kind.
Buy the book, and follow the author on social media:
Learn more about the writer. Visit the Author's Website.
Buy the Book On Amazon.
Visit the Facebook Fan Page.

Author Bio:
J. B. Zuker was born in Guatemala City. At a very early age, she embraced her passion to write poetry, travel, and explore the world.
She had the amazing experience to be part of a youth group that changed her life, provided her leadership skills and alternative educational methods. Through this group, she was able to influence youth in her community.
After graduating high school she packed her bags and permanently moved to Israel. Where she lived six months in a Kibbutz and later decided to move to Tel Aviv City.
She graduated from RRIS Raphael Recanati International School after three and a half years of Finance and Marketing studies. Graduating with a BA in Finance and Marketing.
Today she is happily married, has a beautiful daughter. She inspired her to take Tony's stories back to the light. After keeping Tony only for bedtime stories and the kids she babysat in the past.
Her mission is to bring educational morals to kids through Tony's adventures.